Greetings To You From Lois & Bob . . . . Owners of Anderson Manufacturing Company
Located in Upper Michigan, USA
Thank you for visiting our web site! We invented and patented the Underbed Dresser, and the Pure Health® Mattress. We have been manufacturing consumer products for more than 50 years. You can have complete confidence in ordering from our company, as we are the most highly respected manufacturers in our industry.
Our honesty, integrity and hard work guarantee your complete satisfaction. In fact, we insist upon it by providing you a
30 day home trial and lifetime product warranty
. Our goals have always been to produce the best products at the lowest price possible, and, never to have a dissatisfied customer! Our business was built on the highest principles, which we never have, nor ever will compromise.
You Can Put Three Large Dressers Under Any Bed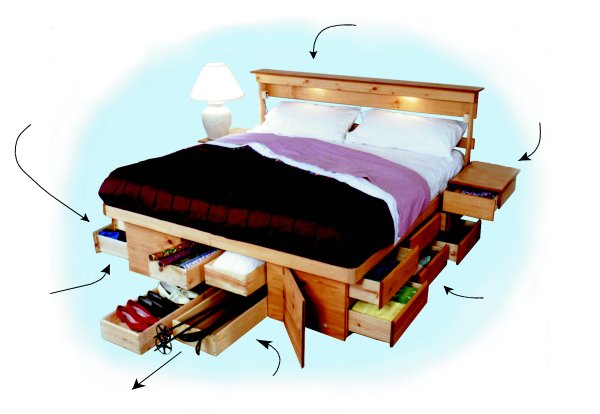 Left Side
Dresser #1
3 or 6 Large
Drawers
Top Level
is Optional
Use Any
Headboard
Use
Any
Side
Table

Dresser #2
2 or 4 Giant
4-1/2' Long Drawers
Drawers are Optional
(Can be open storage)
Right Side
Dresser #3
3 or 6 Large
Drawers
Top Level
is Optional
Full-Extension
Ball Bearing
drawer Slides
Pulls Out
4-1/2 Ft.
Solid
Oak or Pine
Made in USA
Lifetime Warranty
The Easiest, Quickest, Most Economical
Way to Add Storage to a Home!
The 16-drawer Bedroom Organizer™ shown below is equivalent to three large dressers! The side drawers pull completely out of the dresser on ball-bearing drawer slides for easy loading. Also, the drawers are much deeper than standard dressers. They hold stacks and stacks of clothing. The optional end drawers (pull out 4-1/2 feet) hold long, bulky, odd shaped items that are difficult to store, such as pillows, blankets, shoes, wrapping supplies, bedding, guns, sporting equipment, etc.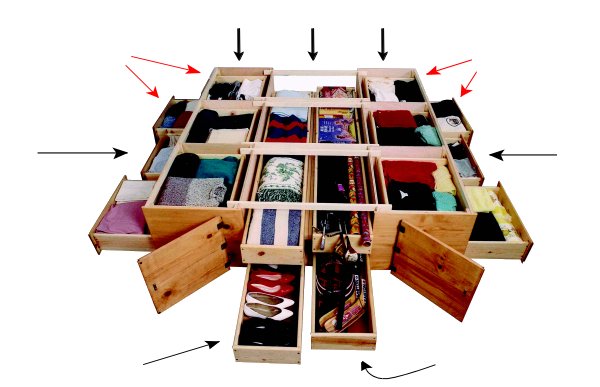 6 Large
Drawers
Dresser #1
6 Large
Drawers
Dresser #3
4 Long Giant
End Drawers
Dresser #2
2 Levels
2 Levels
Pull Out
4-1/2 Feet
16 Large Drawers
hold everything!
You won't need
free-standing dressers.
Save money and space
Three Large Dressers
1
2
3
Bedroom Organizer™
By far the best way to support any mattress
Consider this:
The price of our basic, solid wood (pine), full, queen or king size, 6-drawer Bedroom Organizer.,
(with its life-time warranty)
is only $342, but
it can be yours essentially FREE
when you take into consideration that you will be eliminating the cost (average $350) of the box spring and bed frame forever. This can amount to an accumulation of $2000 - $3000 in your lifetime (because on average, mattresses are purchased every 7 years). Also, you can eliminate the cost of two free-standing wall dressers (average cost $600 each)
As you can see, the Bedroom Organizer™ can more than pay for itself in savings. In fact,
you can potentially save hundreds more than the cost of the entire Ultimate Bed™ and Pure Health® Mattress pictured above.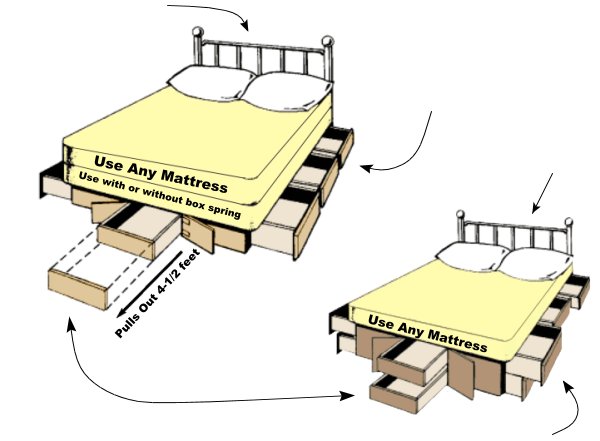 Attach Any
Headboard
(optional)
End Drawers
Can Have
up to four
4-1/2 Foot Long
End Drawers
6 Drawer Dresser
Eliminates Frame
Use With or
Without
Box Spring
Made
in
USA
Lifetime
Warranty
Use Any
Headboard
With Underbed
Dresser
12 Drawer Dresser
Eliminates
Box Spring & Frame
The Easiest Way to Add Storage to Your Bedrooms
UNDERBED DRESSERS SAVE SPACE, MONEY, UNDERBED CLEANING
Solid wood underbed dresser converts wasted space under any bed to convenient storage. It's dust proof, thus ending routine underbed cleaning - forever! Replaces bed frame, or both bed frame and box spring. Fits under any bed. Large (6" X 17" X 19") drawers have precision ball bearing drawer slides. A long center storage area at the foot of the bed can hold up to 4 "optional" 4-1/2 foot long
end drawers
. Any headboard can be attached. All exterior parts are solid wood (pine or oak). Underbed dressers are far stonger and more rigid than steel bed frames, totally eliminating bed dishing or sagging. Universal design fits with all bed styles. Recessed for toe space at sides and end. 6 drawer dresser is 9" high X 74" long. 12-drawer dresser is 18" high X 74" long. Width adjusts to fit full, queen, or king size beds. Assembly required.
Superior Quality. Made in USA. Lifetime Warranty
.
Bedroom Organizer
Construction Details
One Size Fits All Bed Sizes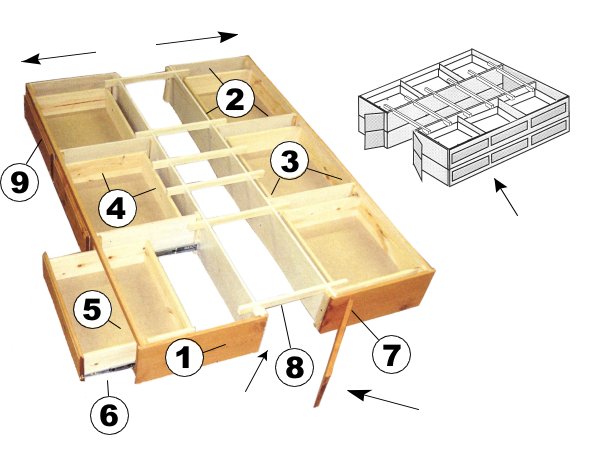 6 Drawer Dresser
(Without Platform Top)
12 Drawer Dresser
(Without Platform Top)
Adjusts to
Fit F, Q, K
Note:
12-Drawer
Underbed Dresser
Note: Shown without
solid platform top
Unobstructed
Full Length Storage
(Fit optional End Drawers)
Door
Exterior: All exterior parts are solid Oak or Pine
Internal Parts: Premium Grade Panels
Construction: Screw fasteners -- Tongue & groove joints
Drawer Parts: 3/4" Solid wood.
Drawer Bottoms: Hardboard with Cedar Insert Option
Drawer Slide: Precision, full extension Ball Bearing 75 lb. Capacity
Hinges: Self closing
Center Supports: Clear Hardwood, 1,000 Lb. weight capacity
Finish: Honey or Walnut stain, or Ready-to-finish
Warranty: Lifetime -- Made in USA
Don't be Fooled Low Price = Low Quality
CAUTION: Be aware of counterfeiters that have unlawfully copied our products, using pictures and written material to deceive you. They use inferior materials, such as vinyl covered fiberboard, and cheap euro drawer slides. They have very short return policies to prevent product returns, and have short warranties. They have no testimonials to show you. Dissatisfied customers are unable to return their products, due to short return time limits and high return freight and restocking charges. Also, they are not manufacturers. They have no factory. Most are importers. If you're making a large investment . . . don't be fooled. Our products are guaranteed to last your lifetime!
Pure Health®
The One Mattress Invented Purely to Improve Your Health
The Pure Health® Mattress has far more benefits, but costs
thousands less than beds such as the Number Bed&reg or Tempurpedic® Bed.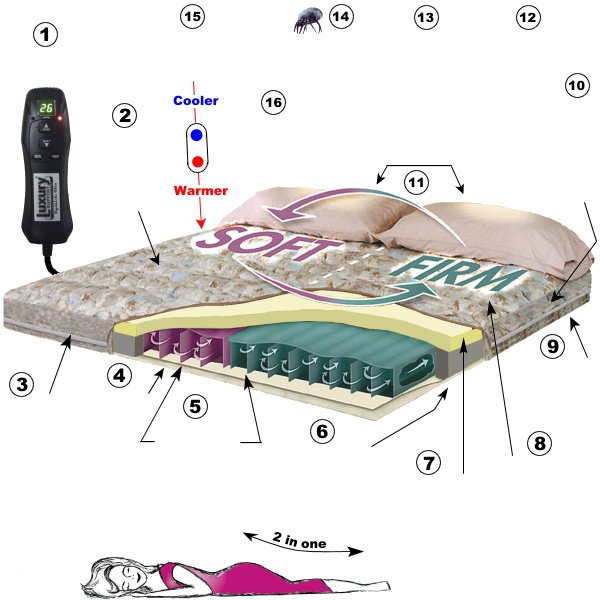 Firmness
Control
Mattress Pad
Women - Get Rid of Hot Flashes!
cools or heats each side of mattress
No
Dust Mites
No
Flipping!
No Body
Impressions
in Cover!
Wool Filled Top
is Removable
and
Machine
Washable
Has
Highest
Dollar
Value
It's Like
Having Two
Separate
Beds!
Antimicrobial
Top Alleviates
Mold, Mildew,
Germs &
Dust Mite
Investation
Continous Velcro
Strip Makes
Removing Simple
for Washing
Anti-Skid
Bottom
Dual
Adjustable Air
Chambers
control firmness
for each sleeper
independently
(Like Sleep Number®)
Firm Foam Edges
provide support
for sitting
Thick Memory
Foam Layer
Alleviates
Pressure Points
(Like Tempurpedic®)
Platform Frame
Retains
Mattress
Shape
Wool Filled
Poly/Bamboo
Cover is
Machine
Washable
Made in USA
• Scoliosis
• Headaches
• Asthma

For Anyone Sleep

• Numbness
• Whiplash
• Back Pain

Deprived From:

• Arthritis
• Rheumatism
• Stiffness
• Fibromyalgia
• Herniated Disc
• Injuries
We invented the Pure Health® Mattress with your health in mind. No other mattress offers as many benefits. It also costs thousands less than other mattresses that are less than comparable. Don't be fooled by the advertising of the brand name mattresses, such Tempurpedic® and Sleep Number®, that cause you to pay hundreds of dollars to share their annual advertising cost of over 100 million dollars. Make a comparison and read testimonials before you spend your hard-earned money!
Compare Before You Buy

Bed Comparisons
Foundation Comparisons
Brand Name
Our Ratings
Size
Avgerage Cost
Unique Benefits
Warranty Period
Benefits
Stength
Pure Health®
Highest
King
$2694
10
Lifetime!
20
Super Strong
Tempurpedic®
Middle
King
$4433
None
Limited
Minus 9
Poor
Number Bed®
Middle
King
$5067
None
Limited
Minus 9
Poor
Spring Bed
Low
King
Not Known
None
Limited
Minus 9
Poor
©Copyright 2011 Anderson Manufacturing, Inc.