Full-Extension, Ball-Bearing
Drawer Sliders
FULL EXTENSION SLIDES
These are the type of drawer slides you would find on high quality kitchen cabinets or filing cabinets. They are far stronger than standard or "euro" slides. They operate on precision ball bearings, and because they have telescoping sections,
they permit the drawers to be pulled completely out beyond the face of the dresser
, (and also beyond your bedspread) making everything in your drawers easy to find, as illustrated below. They are the highest quality drawer slides available, and have a lifetime warranty.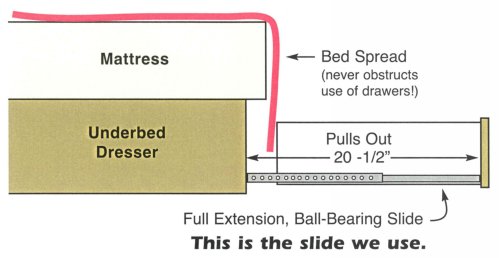 STANDARD "EURO" SLIDES
These are light-weight, side mounted slides that allow the drawer to be only partially pulled out of the dresser, making access and loading nearly impossible (bedspread gets in the way). These are the type of drawer slides that you will see on furniture sold on other websites. See drawing below.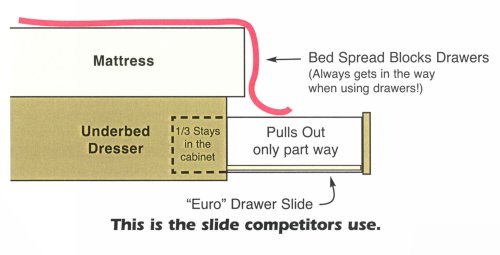 ©Copyright 2011 Anderson Manufacturing, Inc.