DRAWER SLIDES

STANDARD SLIDES (Not available at this time) are side mounting slides. They are the type of drawer slide that is standard on most furniture you would purchase at a furniture store. They operate smoothly, but do not allow the drawer to be completely pulled out of the dresser for easy access and loading. See drawing below.

(Not available at this time)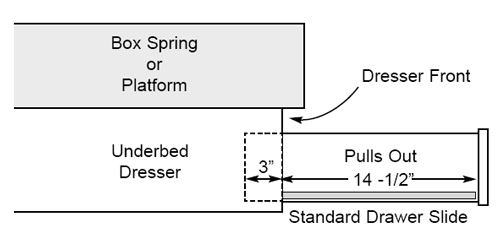 FULL EXTENSION SLIDES are the type drawer slide you would find on high quality kitchen cabinets or filing cabinets. They operate on precision ball-bearings, and because they are far stronger and have telescoping sections, they permit the drawer to be pulled completely out beyond the face of the dresser, making drawer loading easier. They are the highest quality drawer slides available.